Do you love Sheffield Wednesday and cricket? Welcome to The Wednesday Cricket Club, where we're looking to combine a love of The Wednesday, cricket and Sheffield history.
This is the home of The Wednesday Cricket Club. Come here for the latest news, check when we're playing, get involved, or just find out what we're all about.
This is your one stop shop for all the latest news and events.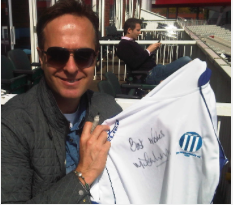 We boast Ashes winning captain, Michael Vaughan as a fan, he says:
It's great to know that The Wednesday Cricket Club has been resurrected after an absence of 87 years. Hopefully this once great Sheffield institution will go from strength to strength and that, like me, you will give it your full support.
Michael Vaughan
Former Ashes winning England Captain and Wednesdayite